Growing up in a racing family, where her father was a former go-kart winner and was an active Late Model crew chief, Tracey attended most races at Orange County Speedway as a little girl. Her brother Mike soon started racing in go-carts and then to stock cars. After being around racing her whole life, it was only natural for Tracey to decide she wanted to race, also.
In 1998, Tracey decided to try her hand at driving competitively.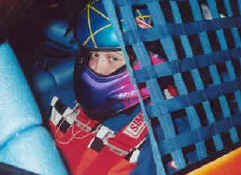 After spending the winter helping to build a Pure Stock Four-Cylinder Racecar, Tracey strapped into the driver's seat and brought the car home in 3rd her first race and was hooked from then on. That season proved to be a success as Tracey earned eight runner-up finishes and ten top threes out of ten starts. She secured the third position in the points race, even after missing the first race of the season due to the car not being race ready.
Tracey decided she was ready for the next step, so she decided to make the jump to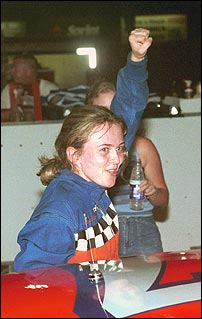 the Modified 4-Cylinder Division in 2000. After adjusting to a car that was a couple of seconds quicker on the track, Tracey collected four top fives and 11 top tens out of 13 starts. She earned co-rookie of the year honors as well as being tied for fifth in the points rankings. She was also honored as the recipient of the Bobby Gullie Memorial Award for Sportsmanship in the Modified Four-Cylinder Division. 2001 proved to be a banner year for Tracey. She racked up seven pole positions and two wins, becoming the first female to win at Orange County Speedway in Rougemont, NC. She placed in the top two six times and in the top three eight times. She cracked into the top five ten times and never finished outside the top six. She narrowly missed capturing her first championship by a mere four points after leading them for over half of the season. After earning the nickname "The Queen of Orange County Speedway," the track named Tracey the 2001 Mack Lamm Sportsmanship Award winner at the Awards Banquet.
With so much success, Tracey felt the need for a greater challenge and decided to step up to the Limited Sportsman Division. The year was much of a learning curve, as Tracey had to adjust to a car weighing over 1300 lbs. more with twice as much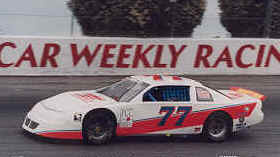 horsepower. Bad luck was a factor early in the season as she missed approximately four races due to the car not being ready and then having two blown engines. Once the season got going, she came home with one top five and five top tens, while rounding the year out eighth in the final points standings and runner-up for Rookie of the Year honors. Tracey was also the runner-up for the Most Popular Driver Award for the Limited Sportsman Division, after a competitive battle for it with the eventual champion of the division. In 2003, Tracey collected one top three, four top fives, and eleven top tens in fifteen starts in the highly competitive Limited Sportsman Division at Orange County Speedway. This earned her the eighth position in the final points standings.
With the closing of Orange County Speedway, Tracey decided to make her Late Model debut in 2004 to allow her a larger choice of tracks to race. Due to a lack of sponsorship, Tracey only ran one race at Southern National Speedway in Kenly, NC and six races at Ace Speedway in Altamahaw, NC. Tracey collected six top fifteens including two eleventh place finishes. In 2005, Tracey returned to Ace Speedway to run entire season in the NASCAR Dodge Weekly Series Late Model Stock Car Division. Bad luck and handling issues plagued the team a majority of the season. She did manage to pull out seven top tens of 22 starts. Tracey finished 10th in the final points standings at Ace and 9th in the Budweiser Challenge Series points, a separate points system based on the second race of each twin event. Tracey was asked to participate in the 2006 NASCAR endorsed Drive for Diversity Testing Combine held at South Boston Speedway in October 2005, and she was honored at the 2005 banquet when she was named the Most Improved Driver in the Late Model Stock Division at Ace. With the reopening of Orange County Speedway in Rougemont, NC, 2006 saw Tracey return to her home track to compete in the Late Model Stock Car Division at the track dubbed "the fastest 3/8 mile in America." Of three starts, she secured two top tens. Tracey made her touring series debut in August when she started a race in the ASA Late Model South Series Division race at Orange County bringing home a top 15 finish. Tracey got the opportunity to test a NASCAR Grand National (Camping World East) car at South Boston Speedway in October 2006 when she was invited to participate in the NASCAR endorsed 2007 Drive for Diversity Driver Combine.
Tracey Chambers graduated from the prestigious Lyn St. James Invitational Driver Development Program held at Phoenix International Raceway in 2004. In addition, Tracey was personally invited by Funkmaster Flex to participate in the Funkmaster Flex Super Series Invitational Late Model Stock Car race in Waterford, Connecticut that was televised by Spike TV. When not racing, Tracey serves as a crewmember and the spotter for her brother's Late Model Stock team. She also does all the vinyl work for the Tech Racing team cars and for a couple of other local teams.
Tracey hopes to advance up the racing ladder, securing success at every step. In the future, she hopes to race a touring series such as the NASCAR Camping World East Series, the USAR ProCup Series, or the ASA Late Model Series eventually leading her to the upper echelons of NASCAR.