Tech Racing Recycles!
Please join the team by visiting your local recycling center with all your used plastic bottles, glass, aluminum, cardboard, paper, etc!!
May 1st & 2nd, 2009
Orange County Relay for Life at Orange County Speedway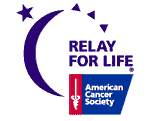 Come out to Orange County Speedway on May 1st & 2nd to support the Orange County Relay for Life Event! Tech Racing will be in attendance both days, with Tracey being the Grand Marshall for the Kid's Walk on Saturday. Her racecar will be on display and Mike & Tracey will both be on hand for autographs. More information on Relay for Life may be found at www.relayforlife.org/hillsborough You may also purchase luminaries for only $10 in memory of or in honor of a loved one up until the ceremony at 9pm on Friday. Torches are also available for $100.
Make a difference, one twist at a time!
During the 2009 season, Tech Racing supported & participated in an effort by Orange County Speedway to collect twist caps for child with cancer. For every 40,000, the child should have received a free cancer treatment. We are informed she has received several such free treatments to date. Help make a difference, one twist at a time!