Putting Their Best Foot Forward

Tracey Chambers And Michael Gallegos Were Among 19 Drivers Participating In The Drive For Diversity Testing Combine At SBS
October 18, 2006 ~ By Joe Chandler, Sports Editor / The Gazette Virginian
Tracey Chambers came to The Drive For Diversity Testing and Evaluation Combine Monday at South Boston Speedway looking for a chance to impress a team owner and further her racing career.

So did Michael Gallegos and 17 other aspiring drivers who were looking for an opportunity in the program that will pair eight drivers with car owners and sponsors in the NASCAR Dodge Weekly Series and the NASCAR Grand National Division next season.

Chambers and Gallegos represented the two ends of the racing spectrum.

For Chambers, impressing a team owner and landing one of eight available spots in the 2007 Drive For Diversity program means that she will have an opportunity to race a full season.

Gallegos, on the other hand, has participated in the program the past two years and is looking to reach the next rung on the racing ladder.

The Timberlake, N.C. resident participated in the combine last year but was not chosen as a participant. Racing on a shoestring budget with her family race team, Chambers made only three races at Orange County Speedway and got a very limited amount of seat time.

Being selected to participate in next year's Drive For Diversity program means an opportunity to race much more than she is currently able to do.

"For me to continue (racing) it would be a huge step," Chambers said when asked how much of an impact the Drive For Diversity program could have on her career.

"So far this year I've run only three races. I'm running for my family team which has not had the money to do a whole lot this year.

"If I were to get into the program it would be a huge advance in my career in the fact that I would know that I would get to run the whole season and know I would be in cars equal to my competitors," she continued.

I could show that I do have talent in the race car – that I could run with the other guys."

The times Chambers was able to race, she fought an uphill battle.

"One race I ran we couldn't afford to buy tires," she pointed out.

"I ran conservative that time trying to finish the race so we could try to buy tires for the next race. It's definitely hard."

Having had that experience and knowing that she needed a big boost if she were to race a great deal more next season, Chambers knew that she was facing some pressure at the combine.

Chambers noted, however, that having gone through the combine last year helped.

"I believe I may be a little more prepared, but only in the sense that I've been here before and know how they run things," she said as she awaited her turn on the track.

"I think there is pressure just because of the owners and everybody that is here. I really haven't felt the pressure too badly because I've been through this experience one time before. I've still got to go out there and perform and be smooth and consistent with my lap times. That's what the owners are looking for."

Gallegos, on the other hand, was selected as a participant in the program in both 2005 and 2006. This season he finished sixth in the regional touring NASCAR AutoZone Elite Division, Midwest Series. In 2005, he was the Rookie of the Year in the NASCAR Late Model Stock Car division at Caraway Speedway in Asheboro, N.C.

The Wheatridge, Col. resident had a good day Monday, posting the second-fastest lap of the day behind fellow candidate Paul Harraka of Fairlawn, N.J.

Harraka's best lap in the NASCAR Busch East Series car was 15.868 seconds (90.74 mph) while Gallegos' fastest lap of the day was 16.005 seconds (89.97 mph).

While Gallegos has qualified for the program twice and has had a pair of good opportunities to showcase his skills, he still needs this opportunity in order to further advance his career.

While there was pressure Monday, Galegos said it wasn't overwhelming.

"I don't feel there is any pressure as far as being out of control and I need to do something," Gallegos said.

"They (the program officials) just say be yourself and it all will work itself out, which is the way it should be."

Gallegos, who drove for Jeff Spraker Racing last year, noted that the program has opened doors for his racing career.

"It's been a great benefit," he said of the program.

"They have given me the opportunity to race in North Carolina in front of the NASCAR community. They have given me an opportunity I most likely would not have had and have jump started my career in the long run.

"I was racing Super Late Models in Colorado," he continued.

"The exposure isn't quite the same as it is in North Carolina. I live near Denver, Col. It's in the middle of nowhere. It's in the Midwest. People don't hear about what we're doing. For us to pick up and move is a sacrifice my parents wouldn't be able to make. Drive For Diversity gives me an opportunity to do that."

Having the opportunity to compete in the touring NASCAR series this season was a huge boon, Gallegos said.

"Anytime you can run against the people that are good you are only going to benefit from that," he said.

"At each level it (the level of competition) increases. Being in a touring series I have been to probably ten different racetracks this year, which makes me a better racecar driver."

The 19 aspiring drivers were evaluated during an all-day test session hoping to secure an opportunity to race with the ethnic and gender minority driver development program in 2007.

Each driver had 30 minutes on the track in NASCAR Grand National Division cars prepared by veteran driver and team owner Jeff Spraker.

In addition to Chambers, Gallegos and Harraka, the participants included Brianne Cronrath, a Pennsylvania native now residing in North Carolina, California native Jesus Hernandez, and Ashley Parlett, a Maryland native who relocated to North Carolina to pursue her racing career.

Other participating drivers included Chris Bristol, of Columbus, Ohio, Michael Cherry, of Valrico, Fla., Bryan Driver, of Pennington, N.J., Katie Hagar, of Nobleboro, Maine, Destiney Hays, of View Lane, Calif., Jessica Helberg, of Petaluma, Calif., Peter Hernandez, of Blue Island, Ill., Danny Martin Jr., of Sarasota, Fla., Candace Muzny, of Oklahoma City, Okla., Alison Quick, of Redding, Iowa, Molly Rhoads, of Hastings, Minn. and Jonathan Smith, of Beacon Falls, Conn.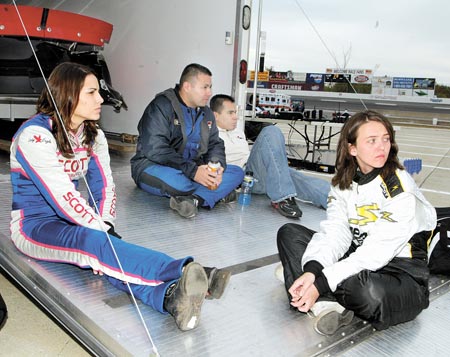 WATCHING THE ACTION - Drive For Diversity Testing and Evaluation Combine participants Destiney Hays (front left), Tracey Chambers (front right) Peter Hernandez (back left) and Michael Gallegos (back right) watched as one of the other 19 candidates sped around the South Boston Speedway oval Monday afternoon. (G-V Photo/Joe Chandler)