Driver Combine Brings Pressure, Opportunity

Nineteen Aspiring Drivers Looking For Their Big Break Participated In The Drive For Diversity Driver Testing And Evaluation Combine That Concluded Yesterday At South Boston Speedway

October 19, 2005 ~ By Joe Chandler / The Gazette Virginian
The third annual Drive for Diversity Driver Testing and Evaluation Combine at South Boston Speedway produced a mixed bag of emotions for the 19 female and minority drivers that took part in the two-day test at the .4-mile oval. From the pool of 19 drivers, eight will be selected and will be paired with a team owner and sponsor to race in the NASCAR Dodge Weekly Series in 2006. For some of the candidates, there was little pressure performing in front of a corp of team owners and team representatives that included noted drag racer Frank Pedregon, NASCAR NEXTEL Cup Series driver Ken Schrader, former NASCAR NEXTEL Cup driver Brett Bodine. For others, the two days of testing and evaluation were pressure-packed as they were in something of a make-it-or-break-it mode.

Terri Williams of Capron, who drove a Late Model Stock Car for SCORE Motorsports owned by Hermie Sadler and former NBA basketball player Bryant Stith at South Boston Speedway this season, was one driver whose racing hopes for next year depend a great deal on the outcome of the combine. With Sadler not participating in the program next year, Williams will be out of that car at the end of this month and she is searching for another ride. "A lot is hinging on this combine," said Williams who is participating in the combine for the second year in a row.
"With Hermie not being involved this year, I'm starting at Square One, just like anyone else." Williams still has a Grand Stock Division racer but, in order to drop back and compete in that division at South Boston Speedway, she would have to sit out two years. "I don't have Late Model Stock Car, so it would have to be starting from scratch if I drove Late Model here," Williams pointed out. "As far as options at other tracks, I haven't pursued that and haven't looked into it. I would love to be able to get a ride through the combine and compete at South Boston or another track. But, if not, I'd love to be able to find a sponsor and continue competing here at South Boston. I think I've come a long way and I've learned a lot and think I can be more successful next year." The pressure of being expected to perform well at South Boston Speedway, her home track this past season, added to the pressure Williams was feeling. "Fortunately, for myself and South Boston Speedway, they are holding the combine here," Williams said. "Most people would think that's an added bonus for me but, then again, it adds a little more pressure because I feel like it's up to me to step it up and do better. I don't have the option of saying I wasn't familiar with the track and things like that. It's an advantage in some respects but it's also a little more pressure."

Tracey Chambers of nearby Timberlake, N.C. was another of the drivers feeling the pressure. Chambers, who raced Late Model Stock Cars at Ace Speedway near Burlington, N.C., and finished in the top 10 in points with seven top-ten finishes, needs a break in order to advance her racing career. "For me, this is pretty big," said Chambers. "My brother and I both race and we run on a very low budget. Usually we have to use the money from our finishes from the previous week to be able to afford to buy tires. It would be a huge opportunity to be in a well-funded car with a well-funded team. It would be awesome for my career." The nervousness showed as Chambers waited for her turn behind the wheel of one of the test cars. "I've just tried to treat it like any other test session," she said. "I'm trying to concentrate on my car and trying not to think about all of the team owners and officials being here." Chambers said failing to make the cut would not end her racing career. "I don't think it's completely make-it-or-break it for me because if I don't make it, I'll just go back to my family-run team," she pointed out. "We'll go and do the best we can and hopefully get invited back next year." Chambers said that regardless of what happens, participating in the combine has been a good experience. "I've had a lot of fun and met a lot of new people," Chambers said. "It's great meeting and working with people like Wendell Scott Jr. and meeting all of the other drivers from around the United States."

For Marc Davis of Mitchellville, Md., a 15-year-old African-American driver, the combine brought with it some pressure. However, he downplayed the pressure side of it. "For me, it's an opportunity to race cars," he said. "That's what I love to do and hopefully it will help my career." Davis' father raced Formula I powerboats. The younger Davis kept the racing tradition alive by racing BMX bikes, quarter midgets, Legends Cars and, now, Late Models. He competed within the NASCAR Dodge Weekly Series at Hickory (N.C.) Motor Speedway and the Road Course NASA Division at Summit Point Raceway in West Virginia. In 2003, he was the Legends Cars series national champion in both road course and dirt series. He was the first Legends Cars series driver to win both championships the same year. While he hopes he will be selected for one of the slots next year, he said his racing career won't crash if he doesn't make it. "I hope to be able to find some kind of a ride, whether it's with the Drive For Diversity or not," he said. His hope to is to land a USAR Hooters Pro Cup Series ride for next year and them move on to the Busch Series and, ultimately, go to the NASCAR NEXTEL Cup Series. Davis is a sophomore at Blake High School and plans to further his education after high school. "I'm really into automotive engineering and I'd like to design cars," he said. "I'm looking into colleges in North Carolina, something I can suit to my racing career."

Tommy Lane of Passaic, N.J. occupies the rare position of being the only Driver For Diversity program participant to date to be a part of both the crew and driver program. In 2004, Lane was a front tire carrier for Hermie Sadler. Last year, Lane drove a Dodge for Evernham Motorsports. "It was a great opportunity coming from a sport that I was involved in with my grandfather and father," Lane said of the break he got through the Drive For Diversity. "It's been a great experience learning to go over the wall carrying front tires for Hermie Sadler. I'm thankful that Drive for Diversity has an opportunity like this for people to go over the wall and drive. It's a great experience." The combine, Lane said, is big for him. "Last year I got to show my talents and my abilities driving for Ray Evernham," he pointed out. "I got the seat time and the opportunity to be with a winning team. Now, next year, if I get selected, I want to win." Lane admitted that he, too, was feeling some pressure. "I feel pressure but I think I'm calm because I've been here all three years and I've seen what the owners are looking for – being smooth, being consistent, having good character and having fun – no stress," Lane pointed out. Lane said this being the third time around for him doesn't particularly mean he has an edge over the other candidates. "The owners are looking for specific things in a driver," Lane said. "All 19 of these drivers belong here. We're all talented. They (the team owners) have to select drivers in some way."

The Drive for Diversity Driver Testing and Evaluation Combine began Monday and concluded yesterday. Participating drivers and team owners took part in two days of activities that included on- and off-track evaluations of drivers hoping to join the driver and crew member development program in 2006. The 19 drivers each participated in a 45-minute test in a NASCAR Late Model Stock Car, where they showed their skills to team owners and program officials watching closely from the race control tower. The ethnic and gender minority drivers were chosen to participate in the Combine by a panel of motorsports professionals.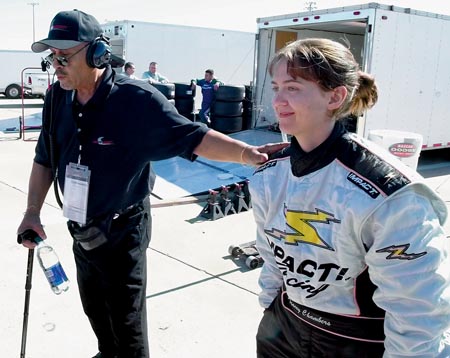 GOOD LUCK! - Wendell Scott Jr., the program mentor for Access Marketing & Communications' Drive For Diversity Program, gave Tracey Chambers a pat on the shoulder as he wished her good luck prior to her Monday test run. (G-V Photo/Joe Chandler)