Tracey Chambers invited to race in the Funkmaster Flex Super Series Invitational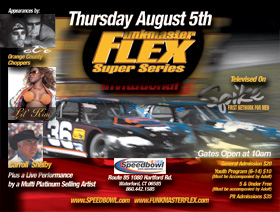 Timberlake, NC (July 1, 2004) Tracey Chambers has been invited to participate in the Funkmaster Flex Super Series Invitational race to be held on August 5, 2004 at the Waterford Speedbowl located in Waterford, Connecticut. This race is an auto racing invitational hosted by radio DJ and car enthusiast/customizer Funkmaster Flex. As many as 100 competitors will be invited to compete from a field of the top drivers in late model stock car racing or similar divisions. The race will bring drivers from all over the country together to compete for a large purse of cash and prizes. The feature race will see about 30 starters race for 100 green flag laps. The top drivers regardless of race, age, or gender are all welcome. The goal is to expose new groups of people to the world of motor sports while generating a new breed of racing, new fans, new viewers, and a larger television audience. It will be airing on Spike TV, to 90 million viewers.
Flex has been the host of the TV show "Ride with Funkmaster Flex" on Spike TV for the last two years. He has also been the top radio DJ on New York's Hot 97.1 for many years. For the Invitational, Flex has invited the Orange County Chopper boys, Lil' Kim and Carroll Shelby, all who will attend the event. Fans will also be entertained with a performance from LL Cool J.

Spike TV will get up close and personal with the drivers, conduct individual profiles, utilize in car cameras, and create a unique viewing experience for the television audience. They are taking the tradition of racing to the next level. With strategically placed cameras and unique attractions such as "confessional booths for drivers", Spike will give the viewers a true behind the scenes look into this new breed of racing.

In this all-new racing special, audiences will have the chance to see racing in a way they never thought possible. Spike TV will entertain fans in the stands and at home with high action, adrenaline-fueled racing from the top competitors in the country.
THE FUNKMASTER FLEX SUPERSERIES PRESENTED BY SPIKE TV
WHEN:
Thursday August 5th. The day before on Wednesday August 4th will be registration, inspection, and practice.

WHERE:
Waterford (CT) Speedbowl

Waterford Speedbowl has been treating fans to the finest short-track automotive competition for over a half century. The three-eighths mile oval has been in continuous service to race fans since its opening on April 15, 1951. A proud member of the NASCAR Dodge Weekly Series, the Speedbowl also hosts the area's leading touring divisions as well. These include the popular NASCAR Featherlite Modified Series, the NASCAR Busch North, the Northeastern Midget Association, the American-Canadian Tour, the Southern New England Pro-Four Modifieds and the AllStar Race Trucks.

It is regarded by competitors as a challenging two-groove track with an outstanding racing surface. The Modifieds and Midgets reach speeds of 100 mph plus. There are no bad viewing spots among the 7,500-plus seats. See www.speedbowl.com for more track information.

FORMAT:
Qualifying Rounds & 100 lap Feature Race.
TYPE OF CARS BEING RACED:
Late Model Stock Car.
PRIZE MONEY:
Total posted awards $100,000.
INVITED DRIVERS:
Aaron Fellows
Barney Boyle
Becca Anderson
Brandon Plemons
Bill Goodrow
Bill Wheeler
Bobby Baillargeon
Bobby Gieger Jr.
Bruce Thomas Jr.
Carl Eriksson
Chad Trombley
Charles Bailey III
Charles Lewandoski
Chris Beutler
Chris "Moose" Douton
Chris Turbush
Chuck Steuer
Corey Hutchings
David Oliver
Dennis Stanpfl
Dennis Werner
Doug Coby
Duane Noll
Ed Reed Jr.
Eric Hudson
Ernie Bertrand
Fred LaForge
Gerry DeGasparre Jr.
Glenn Lawton
Grant Aither
Jacob McGrath
Jack Aquilina
James Monahan
Jason Fowler
Jay Stuart
Jim lamoreaux
Joe Perry
Joey Porciello
John Brouwer Jr.
Keith Larmie
Larry Goss
Mario Hernandez
Mark Durgin
Mark Lowrey
Mark St. Hilaire
Mike Coll
Mike Herman
Mike Quintiliano
Morty Buckles
Patti Pruitt
Peter Donato
Phil Rondeau
Ricky Gonzalez
Rob Tribuzio
Roger Maynor
Rusty Turbush
Ryan Vanasse
Scott Bonney
Scott Bronczyk
Scott Chubbuck
Scott Garrity
Scott Meckes
Scott Watts
Shawn Dunning
Steve Ratti
Ted Christopher
Tom Fearn
Tom Reese Jr.
Tom Rice
Tracey Chambers
Wayne Burroughs Jr.
Wayne Coury Jr
Woody Pitkat